Unbreakable Bonds – Tyler Clutts
By: Tyler Clutts
August 5, 2016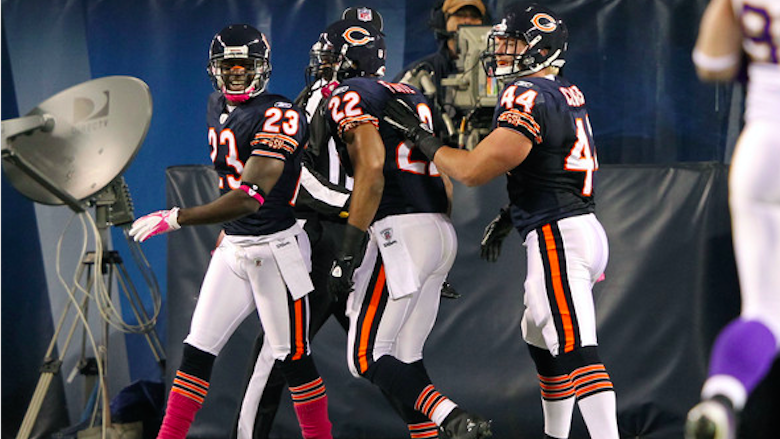 Christian accountability is about consistency. For me, it means being the man and the leader that God has called me to be, day in and day out. In the NFL, the players that exemplify this are the ones who I look up to the most. Josh McCown, Justin Forsett, and Jon Kitna—these are guys that are living the Christian life everyday, who are accountable to their teammates, spouses, and community. Each one of these guys is the same person in the locker room, at home with his wife, and in church on Sunday.
Matt Forte is a brother whom I've grown really close to. We stay in touch regularly, encouraging each other, aiming to point each other towards Christ. Our wives also are really close to each other, as are our kids. We look forward to FaceTime with the Fortes every couple of weeks—doing life together.
I have created bonds with other men who go through the same struggles and challenges as I do and this has resulted in having relationships that are really strong. When God is the glue in these relationships, there's nothing that can break that apart.
During my rookie year in the NFL, a time when I was very immature as a Christian, I was really trying to do everything myself, putting the weight of the world on my own shoulders. I thought that the only reason that I had made it as far as I had was my own hard work, but in reality, the only reason I've been able to accomplish anything is because God has allowed me to. He has a purpose for me.
The person that really sparked this revelation for me was Josh McCown. While I was playing with the Bears in 2012, Josh invited the entire team to a Christian conference and offered to pay for anyone who would go. I took him up on the offer and I'm so glad that I did. At the conference I was introduced to Dr. Tony Evans, Francis Chan, Steve Stenstrom, and many other incredible leaders who really helped me grow in my faith in Christ. It completely redirected my life and my marriage.
I give so much thanks to Josh for being willing to step out in faith and encourage me and the rest of our team to seek Christ. Because he lives with accountability and contagious faith, my own life and faith were ignited.
"Let us consider how we may spur one another on toward love and good deeds, not giving up meeting together, as some are in the habit of doing, but encouraging one another—and all the more as you see the Day approaching." —Hebrews 10:24-25
Another person who really has made a great impact in my life is Jonathan Evans, the team chaplain for the Dallas Cowboys. He has helped me not only to stay grounded in my faith but to mature as a Christ-follower. He has always been there to remind me that I don't have to prove myself by my performance or my status. Jonathan was the first to point out to me that I wasn't playing for coaches or teammates, I was playing for God.
As I shifted my focus off of being the perfect player and onto playing for God, my game completely changed. This realization freed me up to be the player that God created me to be instead of the one I thought I had to be.
—Tyler Clutts
Tyler Clutts is a regular contributor to The Increase and will be providing monthly articles and opinions.
Check out Tyler's Increase profile here: http://theincrease.com/author/tylerclutts/
If you enjoyed this article, please share: