Living Intentionally – Demario Davis
By: Demario Davis
February 1, 2017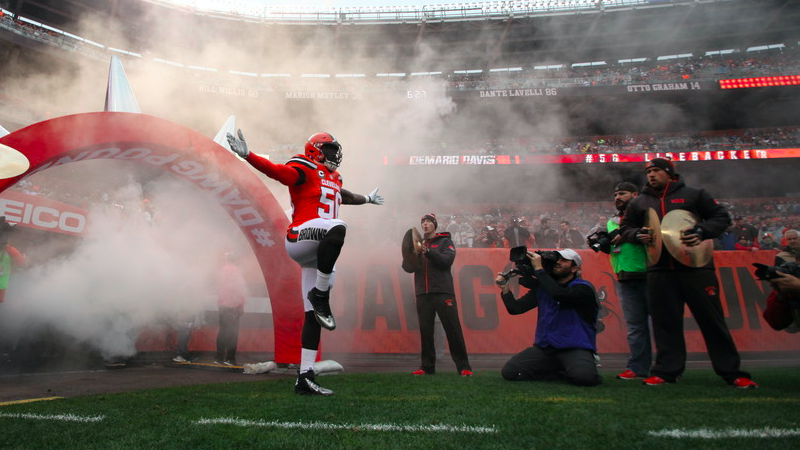 I'm attacking this off-season. Coming off the last season I'm taking everything I've learned and I'm looking to the next phase as a building phase. I always look at the next phase (whatever phase that is: off-season or in-season) in this way. The next few months I will be engaging with different teammates and players, attending football workshops around the country, working with therapists and trainers, and working harder than ever to be the very best that I can be for 2017.
I've always been someone who likes to catch a vision and then sprint full speed ahead, working hard to get there. What I've learned from this last season is that in order to take my game to the next level, I have to change the way I play the game. Instead of just totally bulking up I want to become stronger and more agile. I'm processing all that I've learned from the past season and figuring out how to advance as a linebacker.
This also was a really big year for God teaching me to trust in Him. Instead of catching a piece of His vision and running with it, I need to trust in God's plan and walk with Him. To do this I need to learn how to be less action-oriented and more process-oriented, making sure that I am moving in the direction God wants me to at the time He wants me to.
"Wait for the Lord; be strong and take heart and wait for the Lord." —Psalm 27:14
This also is a time for me to spend intentional time with my family. We just bought a house in Mississippi right down the road from my parents and near many of my cousins. It's good to have a home base now, in the past we've just stayed wherever it is that I'm playing and then we come home for a few weeks after the season ends. This is the first time that I've back come to live in Mississippi since I left for college and it's amazing to think that I left a boy and I'm coming back a man, married with three kids, buying my own house. This has been a really great time for me to reflect on all that God has done in my life, where He's brought me from, and where's He's taking me.
Family time is important to me and it's important for my kids to be able to understand what real relationships are meant to look like. I came from a single-parent home and I don't want that dynamic for my kids; they need to see how a father and mother interact and what a husband/wife relationship should be. It's every parent's role to teach their kids about God, modeling what a relationship with God looks like. It's not enough to send your kids to Bible school or church on Sundays, they need to see how you spend your time as a Christ-follower. They watch the little things you do and they hear everything you say.
"Start children off on the way they should go, and even when they are old they will not turn from it." —Proverbs 22:6
We try to make sure we have family dinners as much as possible. During the season, that can be a challenge but in the off-season we have the opportunity to take time off and build memories together. And while we are looking forward to going to Disney World this year, we care more about living a consistent life, setting the stage for what our family is all about, and exemplifying to our kids how Christ loves the Church. The only way to model this is by sharing our everyday walk, creating an environment where our kids want to enter into a relationship with God for themselves. Of course that decision needs to be made entirely by them but I want to do everything I can to increase the likelihood that they do that.
I encourage you to set aside one night a week to do something family-oriented. If you schedule this for once a week, you're at least going to get to it every other week, which means you have 26 times a year that you're intentionally spending time with your family and that is hugely beneficial. Make it a game night, go out to a restaurant, visit a park, or watch a movie together. I want to make this a habit while my kids are young so that when they grow older we can be more intentional about having meaningful conversations about things that really matter. Prioritizing family dynamics is up to you. Don't put it this off any longer, there's too much that you may be missing out on.
—Demario Davis
Demario Davis is a regular contributor to The Increase and will be providing monthly articles and opinions.
Check out Demario's Increase profile here: http://theincrease.com/author/demario-davis/
If you enjoyed this article, please share on the following social media sites: