Infinitely Greater – Demario Davis
By: Demario Davis
April 20, 2017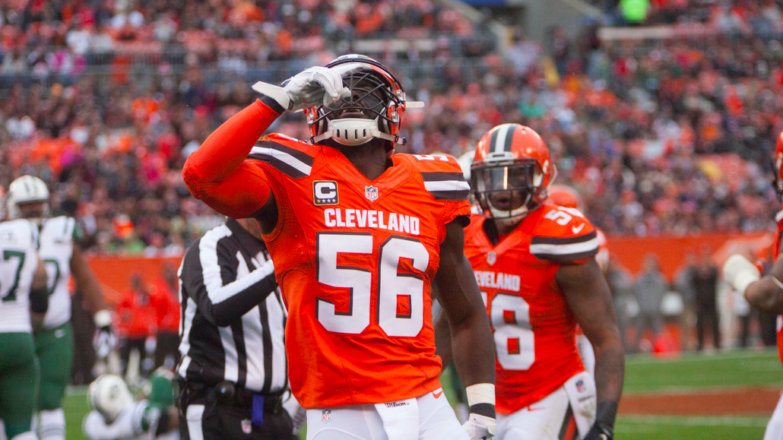 As long as we are looking at ourselves, we will never be able to flourish the way God wants us to.
Recently I was listening to a message taught by Matt Chandler that I was really struck by. He challenged us with the idea that all too often we only see God as He relates to our own personal situations instead of seeing God for who He is in His entirety.
The more we can focus on God's attributes, and not only how they affect our daily situations, the more we will be able to fix our eyes towards God to understand Him and His Kingdom. I realized that if my focus is mainly on how God wants me to handle my job, my marriage, and my ministry, then I'm really only focusing on me. If I instead set my gaze on who God is and worship Him in light of that, then I can really flourish. By limiting God to my own situation, I'm forgetting that God is the God of the Universe.
A lot of times we may be afraid to go to Him; we may be asking Him for something and only hoping that He will do something about it. If this is our mindset when we approach God, then we don't fully understand the Bible. In our own minds, we are limiting the Almighty. The more that we can keep our eyes fixed on God, the better off we will be.
There is great hope and assurance found in understanding that our God is infinitely larger than anything we may come across. It's not as though our problem is a size eight and God is a size nine. If our problem is a size eight, God is limitless—unending. If you dial into who God is, any problem that you may face will pale in comparison to His majesty. If you are able to meditate on these truths when a situation comes, you will be able to measure the circumstances up against God and not God up against your circumstances.
"Peace I leave with you; my peace I give you. I do not give to you as the world gives. Do not let your hearts be troubled and do not be afraid." —John 14:27
This power and freedom is unleashed when we learn how to appropriately view God, who is holding all things in His mighty hands. Knowing this gives us an infinite amount of hope, confidence, and peace in the midst of any storm. By trusting in the presence and power of God, we find refuge. When we don't trust in the greatness of God, we cannot find the rest that He promises to us.
God is not only the God of the universe, but He's also our Father. He loves us so much that the only time that He interrupted His perfect relationship with the Trinity—God the Father, the Son, and the Holy Spirit who are eternally One and united in perfect community—was when God sent His Son to die on the cross. At the moment Jesus said to God, "Why have you forsaken Me?" we see that there was a barrier between Them. Why did God do this? Why did He break this eternal unity within the Trinity? Because He loves us so much. This is now about a love God has for the masses, it's about His love for each and every individual on the planet. He loves us so much that He sent His Son to save us as individuals. Yes, He is great enough to rule and reign over the whole world, but He is also loving enough to know and care about every strand of hair on every person's head.
"Indeed, the very hairs of your head are all numbered. Don't be afraid; you are worth more than many sparrows." —Luke 12:7
We cannot begin to rationalize His complexity and intimacy but that's what makes God so incredibly great! In His vast greatness, our Father has the ability to love every child He has created in a way that surpasses all understanding.
—Demario Davis
Demario Davis is a regular contributor to The Increase and will be providing monthly articles and opinions.
Check out Demario's Increase profile here: http://theincrease.com/author/demario-davis/
If you enjoyed this article, please share on the following social media sites: