Faithful in the Battle – Joshua Vaughan
By: Joshua Vaughan
July 28, 2016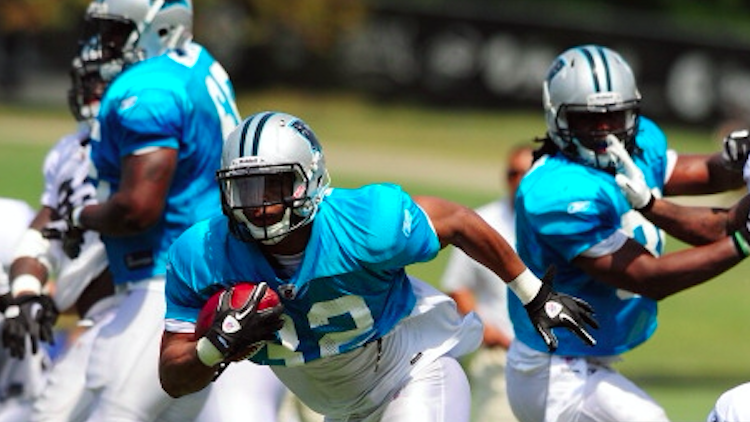 The year after Amber and I got married, I was entering Training Camp for the NFL. It was one of the toughest times of my life. I felt like I was in a fierce battle.
As I began preseason training in Carolina that year, things felt off. I wasn't playing as well I had been, my position was changed, and I was moved on from the top of the chart on Special Teams. All I wanted was to make the team. Not only were things on the field not going well, Amber was experiencing changes in her job and many difficulties that were out of her control. We were both extremely stressed.
Each day, as the pressures of life seemed too great to handle on my own, I would wake up extra early to spend time with God. As I prayed and spent time reading the Word each morning, I would share the burdens of my heart with God and be refreshed by His truth.
One morning I went early to the practice facility, as I usually did, and I opened God's Word and began to pray. That day one of the workers there noticed me and came over to talk. This woman happened to be a Christ-follower herself and she really encouraged me in my walk. Her words really blessed me as I went back out onto the field with all the regular worries that had threatened to make me anxious: What would happen today? Would today be the day that I get cut?
Anyone in this position in the NFL experiences days when they're not playing freely. You're playing to avoid getting cut, and when that mindset takes over, you lose the battle. I knew I could play better but I was struggling because my mind was everywhere at all times, worried about everything that may go wrong.
"Rejoice in the Lord always. I will say it again: Rejoice! Let your gentleness be evident to all. The Lord is near. Do not be anxious about anything, but in every situation, by prayer and petition, with thanksgiving, present your requests to God. And the peace of God, which transcends all understanding, will guard your hearts and your minds in Christ Jesus." —Philippians 4:4-7
I did end up getting cut. Amber did end up losing her job. But we learned to let God provide; we learned that He is faithful and His plan is the best. Looking back, Amber and I are thankful for this time in our lives because we see now that God put us in a place where we needed to be. We needed to lean on Him alone, letting Him be our source of peace and joy.
The battle you fight in football is unique. Most players are trying simply to make a roster, let alone maintain their or improve their position. Learning to trust in God through that time in my career really prepared me for what is next. I know that when I face stressful times in my career today that I can always lean on God to be my strength. When God shows Himself faithful in one area of life, He will show Himself faithful again and again. Today, no matter what the day or job holds, I never have to doubt that God will provide; He will always come through to establish His purpose.
—Joshua Vaughan
Joshua Vaughan is a regular contributor of The Increase and will be providing monthly articles and opinions.
Check out Joshua's Increase profile here: http://theincrease.com/author/josh-vaughan/
If you enjoyed this article, please share: