Comfort Amidst Disappointment
By: Benjamin Watson
September 19, 2016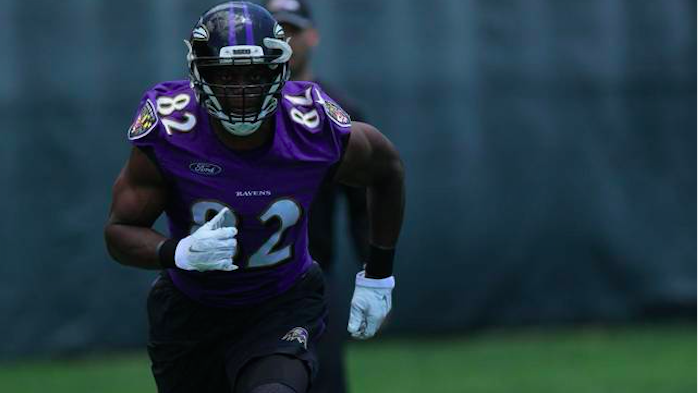 I'm disappointed, I'm sad, and I'm frustrated, but I do know that God knows what's going on, He's got a plan. This is not a surprise to Him.
Anytime a pro athlete gets an injury it's hard—this is our livelihood. It's my job. It's what I do. Joining a new team, forming new relationships, joining new homeschool groups for the kids, and even things as simple as going to a new grocery store this year has taken a lot of adjustment. That my season has ended so abruptly, especially after moving across the country, is really difficult. In fact, it has been devastating—I've kept thinking I was going to wake up from a really bad dream.
Although this has been a really disappointing start to my first season with the Ravens, I have been incredibly amazed at how supportive people have been. I was overwhelmed, the first week after tearing my achilles tendon, by all the Facebook messages, tweets, and messages that people were sending me. People who I never would have thought knew that I was injured were reaching out to offer comfort. If nothing else, I have felt a whole lot of love from a whole lot of people from all walks of life.
My wife is a trooper. She now has six children to take care of; I can offer very little help right now. Even my kids have been eager to bring me breakfast in bed and check on me throughout the day.
God has a plan in all of this. Like I mentioned, nothing is a surprise to Him and I trust that He's in control. Sometimes you need to grieve and let out your frustration so that God can then come and comfort you. It's in these moments that I experience God's faithfulness and mercy. I've trusted Him to bring me this far, I need to continue to trust that He knows what's going on.
"The Lord is my strength and my defense; He has become my salvation. He is my God, and I will praise Him, my father's God, and I will exalt Him." —Exodus 15:2
My underlying prayer through the frustration and disappointment is that God draws me closer to Himself. I pray that He reveals His plan to me and continues to bring encouragement to me during this time. I don't want to be selfish because of this injury, instead I want to glorify Him in this time. If someone is able to be encouraged, or even come to know Jesus because of my injury, praise God. I don't know what will come of it but I do know that all things work out for good. The good is not always what we would choose, but it is the best for bringing glory to God as well as developing us as faithful followers of Him.
"And we know that in all things God works for the good of those who love Him, who have been called according to His purpose." —Romans 8:28
Though I'm not able to be with my new team right now, I have been receiving texts of encouragement from my new and former teammates. Once I'm back on my feet, my wife and I will be leading the couples' Bible study for the Ravens, which will give us an opportunity to remain involved in the lives of my teammates on a weekly basis. And maybe that reason alone is why we are where are we this year.
"So do not fear, for I am with you; do not be dismayed, for I am your God. I will strengthen you and help you; I will uphold you with My righteous right hand." —Isaiah 41:10
—Benjamin Watson
Benjamin Watson is a regular contributor to The Increase and will be providing monthly articles and opinions.
Check out Benjamin's Increase profile here: http://theincrease.com/author/benjaminwatson/
If you enjoyed this article, please share on the following social media sites: